Available for download in pdf format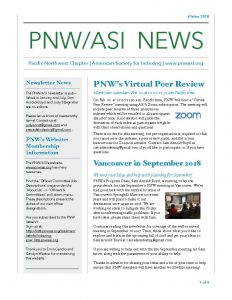 PNW Board Transitions
PNW's Virtual Peer Review
Vancouver in September 2018
"Better Skills, Better Business" Meeting
PNW/ASI Spotlight: An interview with Maria Sosnowski
Available for download in pdf format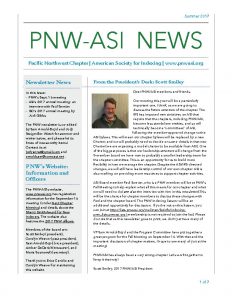 From the President's Desk: Scott Smiley
PNW's meeting is Sept. 16!
The Sherry Smith Award for New Indexers
ASI 2017 Conference in Portland, Maine – An Interview with Paul Sweum
ISC-SCI 2017 Conference in Montreal – Judy Gibbs
If you are interested in contributing to the newsletter, please contact our newsletter volunteers Sam Arnold-Boyd and Judy Staigmiller.
Subscriptions
Receiving the newsletter is one of the benefits of being a member of our PNW/ASI chapter. We post the table-of-contents as well as PDF versions of several past issues here as a service to potential and new members.
Back Issues
Copies of some back issues are available in the Newsletter Archive. If you are looking for paper copies, they are available for $3 per issue to non-members, while PNW/ASI members can request past issues without charge. To request back issues (free of charge to PNW/ASI members, $3 per issue for nonmembers) please contact Judy Staigmiller. You will need to send:
Your name, address, phone number, e-mail address
List of issues you are requesting
Payment (if applicable). Checks should be written to PNW/ASI.